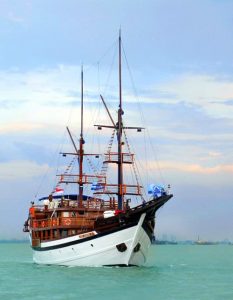 Cruise Tour From Bali to Nusa Penida
Bali seemed to be unremitting to make the traveler mesmerized. From beach tours to mountains, from cultural tours to party and cocktail bars. Many tourists who visit Bali are confused to choose which tour they most want, especially those who first visited Bali and Nusa Penida. It's look like want to try all the tourist destinations but the price and time spent are also definitely more.
Bali also seemed to understand the problem and provide an escape that is the innovation of the tour that combines beach tourism, cruising the island until the bar to relax. Namely with a tour using a cruise from Bali to the exotic island of Nusa Island. Type of this tour is One Day Tour with many interesting activities in it.
With Bali Cruise Tour, tourists will be spoiled by complete facilities, activities such as snorkeling, dinner, banana boat to explore the beauty of Nusa Island. Here are the advantages of traveling using a cruise from Bali to Nusa Penida and Nusa Lembongan.
Cheap package price
        Bali Cruise Tour is a tour package that offers various activities during the trip from Bali to Nusa Penida. In addition, Cruise tour also provides convenience for tourists who want to enjoy a vacation with a cruise ship but do not have a lot of budgets because yacht tours are known for its expensive price.
New Experience
       Tourists travel from Bali to Nusa Penida using luxury yachts. Of course this will give the impression and also a new experience for tourists who usually to Nusa Lembongan or to Nusa Penida using fast boat or ferry.
Easy tickets available
          Besides the cheap price, Cruise Tour tickets are also very easy to get through online sales. So that travelers can book Cruise Tour tickets from anywhere and anytime. One of the cruise providers that serve online ticket sales is gilitransfers.com.
Well. So what are you waiting for? Summer vacation is a perfect time for a holiday to Bali. Enjoy the underwater beauty with Snorkeling or semi-submersible, boost adrenaline with a banana boat or water slide pontoon, even see the activities of the people of Nusa Penida and Nusa Lembongan Islands.