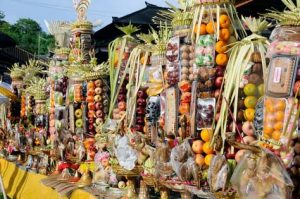 Ocean Silent Day is one of the celebrations or traditional ceremonies for Hindu society in Nusa Island (Nusa Lembongan, Nusa Penida, and Nusa Ceningan). Ocean Silent Day is held on the fourth full moon of the Bali Calendar or Hindu calendar. Ocean Silent Day is held in honor of the God Baruna, the God of the Sea according to the beliefs of Hindu society. Nyepi Laut ceremony falls on September 25 this year.
During Ocean Silent Day, all activities in the sea were stopped. Starting from crossings, fishing, diving, snorkeling, even walking around the beach is also prohibited. So the sea from Bali to that three islands is really quiet. If the conditions in the sea are quiet, then it is different from the conditions on the three islands.
There will be a lot of ceremonies or celebrations at the temple or on the roads on the three islands. Even in Nusa Ceningan, there will be a local market that is open for 3 days. Offering a variety of craft items to traditional culinary. The people on the three islands of Nusa are very enthusiastic in welcoming this Ocean Silent Day. Even they have prepared ceremonial needs one week before the day comes. This is certainly different from Nyepi in Bali where all activities on the streets are stopped so the atmosphere becomes very quiet.
Ocean Silent Day can be a great time for visitors who want to explore Nusa Island. Because all activities related to the sea are forbidden, you can get more time to explore the culture and community on Nusa Island. You can also attend ceremonies held there. That will be a different holiday experience on Nusa Island.