Amazing things in gili trawangan that you can do to fill your fun day. Gili Trawangan is a favorite destination in Lombok. The island has a length of 3 km and a width of 2 km with a population of about 800 people. Gili Trawangan has various facilities for tourists compared to Gili Meno and Gili Air. The island has panoramic view with Mount Agung, Bali and Mount Rinjani, Lombok in its surrounding. The natural conditions of the island are still very pure and there are many places to explore.
GMT
Text-to-speech function is limited to 200 characters
Things you can do on gili trawangan :
1. Explore the underwater life
The Gili Islands are known for amazing scuba-diving, snorkeling, and beautiful underwater life. This should be number one on your list of things to do. I will tell you what you can do about the underwater life here.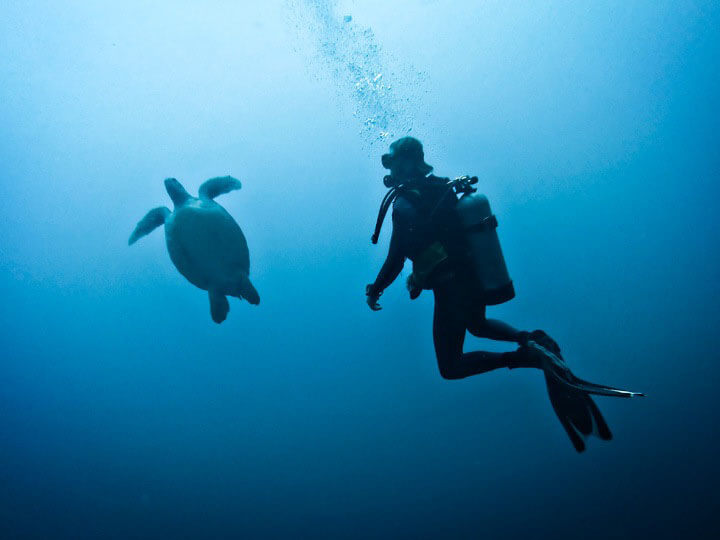 PIC : Alex In Wanderland
2. Never miss a sunset
Of all the travels in South-East Asia, strongly believe that the sunsets in the Gili Islands are by far the most beautiful. Pretty much go every day to see what different colors the sunset will bring. Make sure you get the classic Gili Trawangan "swing shot" at Ombak Sunset resort.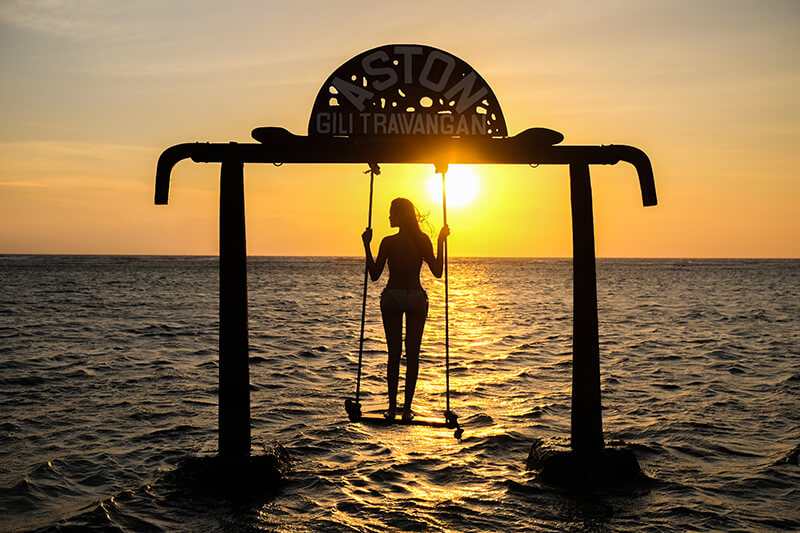 3. Feast at the night market
The Gili Trawangan night market is the main public dining spot on this favorite backpacker's island retreat, catering to budget travelers well with its open-air food stalls and traditional warung style cafeterias. The night market opens just before sunset, satisfying those cravings for seafood and local delights with a good variety of menu items to choose from.
While many local warungs selling cheap traditional Sasak cuisine and Indonesian favorites line the main southern beach street and elsewhere around the island, the Gili Trawangan night market is where you can score a one-stop experience, where different stalls open up showcasing fresh catches of the day together with grilled meats, Chinese wok-fries, and all-time favorite Indonesian favourites such as nasi goreng fried rice, soto ayam chicken broth, and bakso meatball soup.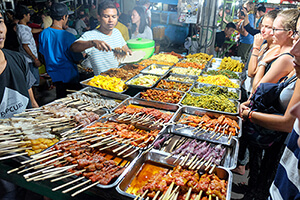 4. Relax on the Beach
When you look at pictures of the beaches on Gili Trawangan, one word always comes to mind is paradise. The sand is great, the water is crystal clear, and it's the perfect place to spend a day and do nothing.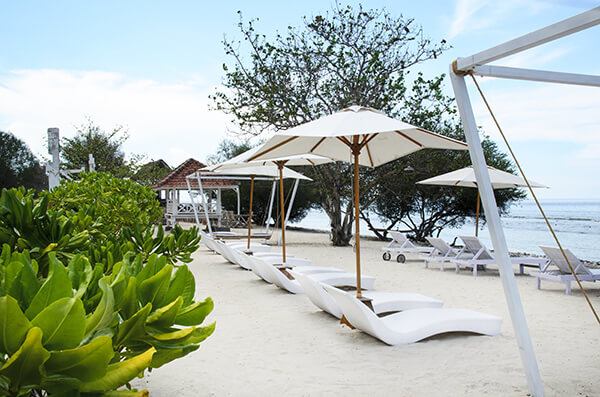 5. Bike ride around the island
Biking around Gili Trawangan makes you think about the catchy song. That's exactly the opposite of what has happened here in this paradise, completely unscarred by motorised transport of any type. Rent a bike ($5 per day). There are two other options to explore this island :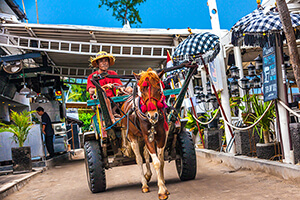 Cidomo. The local horse carts in the Gilis attract a little bit of controversy. You won't see water troughs along the main path on the islands, and the cost of the short rides are getting rather extortionate (US$7-10 to your resort or US$12 to go around the island). If your hotel is a fair walk from the jetty and you're not travelling light, you'll probably need to use one.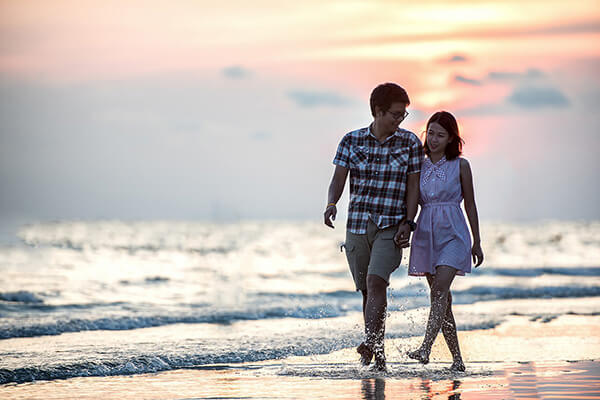 PIC : Almarik
Walking. A leisurely stroll all the way around will take 90-120 minutes, depending on just how leisurely you are. The hill in the south can be easily reached by taking one of the tracks that lead west or southwest from the back of the village. Dawn and dusk are the best times to climb up here. The sunset views back towards Bali are quite lovely, and in the mornings the sun rises over majestic Mount Rinjani on Lombok. On the top of the hill lie the remains of a World War II Japanese gun bunker.
6. Horse Riding
There are two stud stables on Gili Trawangan, past the sunset bars on the south side of the island. Prices start at US$25 for a 30-minute ride through the village and forest. Safety could be an issue, so it's not advisable for first-time riders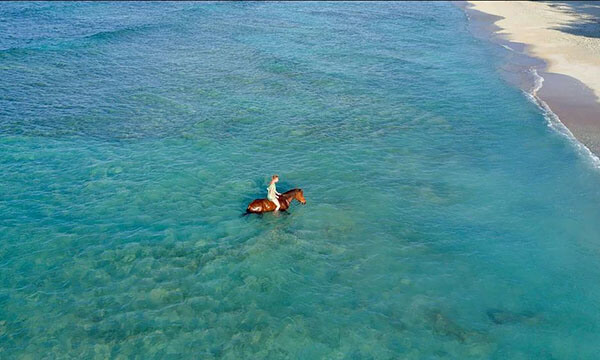 PIC : Onflightmode
7. Yoga
Massively big in Bali, the Yoga craze is slowly making it's way to the Gilis. Beautiful sunrise sessions and yoga whilst the sun is setting over Mount Agung in Bali makes Gili a rather special and spiritual place for yoga. Sessions also run throughout the day, so there is something for everyone. The teachers here are second to none, each with that born to do it soothing voice that transports you into a world of relaxation. The Yoga Place offers Hatha, Ashtanga, Vinyasa flow and meditation as well as yoga workshops over a 2 or 3 day period. Perfect for a bit of a detox and getting you ready for the rest of your holidays or travels. Stick around after your class for some amazing vegetarian food too, including massive juicy salads, hearty pastas and the best shakes, smoothies and juices on the island! Yoga classes can be found at cocoa hotel.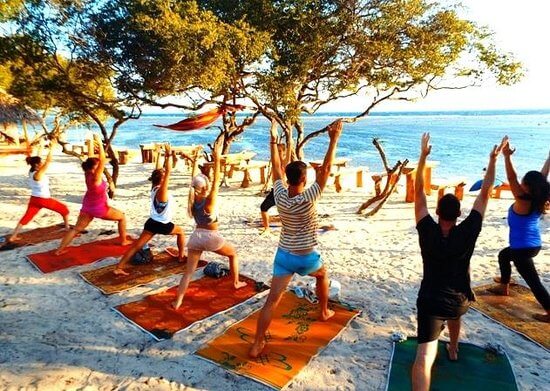 Pic : Cocotoa Hotel
8. Subwing
A new water sport where you get pulled slowly behind a boat and are given two wings which allow you to fly underwater or to swim like a dolphin. Trips depart from Gili Trawangan, Gili Meno and Gili Air.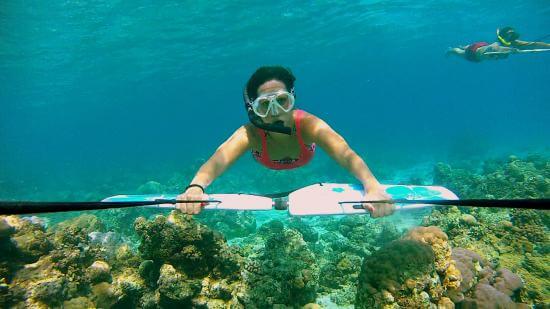 Pic : Subwing Gili Islands
9. SPA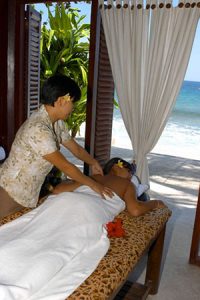 In the Gilis, you have the option of going to a hotel or boutique spa, or getting a gloriously soothing Balinese massage right on the beach (US$12-15). The local massage ladies use a beautifully fragrant homemade coconut oil.
10. Party
It is inevitable that you will probably party at least once during your stay here. And why wouldn't you? Beach front locations, fireworks, fire throwers and fun-loving travelers make the party scene on Gili Trawangan one not to be missed.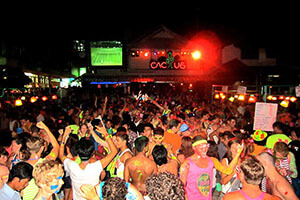 There is a rule on the island meaning that only one bar can be open til late (usually around 3am) so there is a different party every night of the week! Monday – Blue Marlin Dive, Tuesday – Sama Sama Reggae Bar, Wednesday – Tir Na Nog Irish bar, Thursday all bars are open until 1am, Friday – Rudy's, Saturday – Sama Sama Reggae Bar and Sunday – Evolution. There is also Full Moon and Dark moon parties and these are at the Surf Bar a little way round towards the South of the island. Jungle Bar and Ombak bar are the best for pre-drinking and getting you in the mood or why not try cocktails and sheesha at Pesona Resort!
That's it 10 Amazing things in Gili Trawangan that we recommend for you. So, will you are going to visit gili trawangan?